Azt hiszem elmondható, hogy a farmer a leguniverzálisabb ruhadarab amit valaha is kitaláltak. Hordhatjuk elegánsan, lazán, nőiesen vagy épp fiúsan. A legújabb készletem, a
Denim Days
is ilyen. Szinte bármilyen stílusú oldalt lehet belőle építeni és még csak az sem kell hozzá, hogy a fotó farmeres legyen, sőt, a ct tagok közül két olyan oldal született, ahol a farmeré a főszerep :)))
I think we can say that the jeans the most universal piece of clothing ever invented. You can wear that in elegant, cool, feminine or even masculine style. My latest kit,
the Denim Days
is like that. You can make pages almost any style with it. You don't need photos with denim clothed people, just look my ct members pages: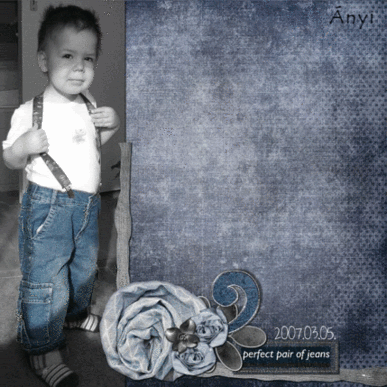 Ebben a hónapban volt egy vendégem is, Lilismother személyében:
I had a guest, this is her page:
A saját oldalamon is inkább a kalapról van szó, meg Zotyám huncut mosolyáról ;)
Here is mine cute hatter:
A készlet / Here is the kit:
Kapható az
SBE
-nél, még ma estig akciós áron.
You can buy it at
SBE
, on sale till monday evening.